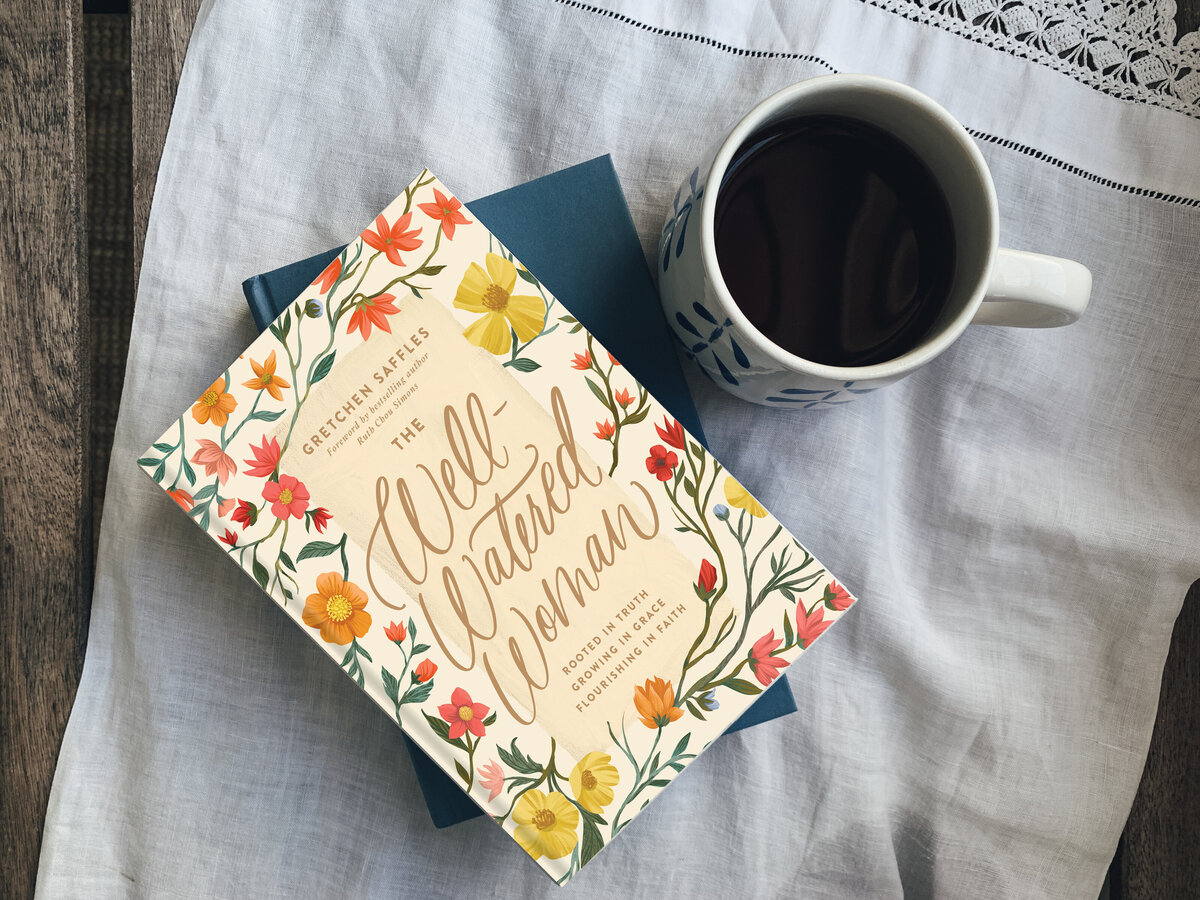 After 2020 does your heart feel a little dried up? Do you feel burned out? Do you feel broken down by life?
If so, I think Gretchen Saffles new book The Well-Watered Woman (releasing tomorrow!) will stir up your affections to love and enjoy Jesus. She invites you to be firmly planted in the gospel. In the midst of ever changing circumstances, Gretchen shows how "the Word of God never changes but it always changes us."
Gretchen invites the reader to draw from the well of God's Word instead of looking for fulfillment or satisfaction in other things. In the midst of changing seasons, Gretchen encourages us to continue to grow in God's grace. The goal is not to make a little group of perfect women, but instead to look to Jesus, the sinless one. He is our righteousness, our right-standing before God. And as we encounter him again and again in his Word, we will become well-watered women who will bloom for his glory.
Gretchen's book contains three sections: The Well, the Word, and the Way. She describes each encounter with Jesus in his Word as drawing from the "Well of fullness." She describes him as giving "the Word of freedom" and showing us "the Way of fruitfulness."
Gretchen weaves scripture and her personal story together to give us tangible avenues to enjoy, seek, and follow Jesus. You will find it refreshing. Gretchen promises, "One day, everything will be better than okay in him. Until then, let the thorns and thistles of life thrust you closer to him and pierce your heart with gospel truth.
Because I loved this book I thought it would be fun to ask Gretchen a few questions.
Interview with Gretchen Saffles
What first inspired you to write The Well-Watered Woman? 
God has been weaving the message of this book together my entire life. I became a Christ-follower at the age of 7, but it wasn't until my college years that I truly began to understand the depth, beauty, and power of the gospel in everyday life. After walking through an eating disorder, and then later trudging through the quicksand of depression and anxiety, I found myself wondering, "How do I follow Jesus in my daily mundane and pursue him in the hard seasons of life?" This question birthed the vision for the book.
I wrote this book for the woman who wants more of Jesus in her everyday life because, to be totally honest, I am that woman! I'm the woman who has run tirelessly in a race for a prize that is out of reach and unsatisfying. But I am also the woman, by God's unmerited grace, who aches to spend my brief, numbered days here on earth chasing Jesus, the only prize worth pursuing in this life (Ps. 90:12; Phil. 4:12).
I have been the dried-up woman, and because of Jesus, I am the well-watered woman… and so are you. This book will take you on a journey from the dried-up life to a well-watered life that is abundant, whole, and free in Christ! This is the life he came to give, and this is the life he equips you to live.
My hope is that women will close this book and open their Bibles, not just once, but every day. I hope they will be set free from unrealistic expectations they've placed on their spiritual growth and walk with God to pursue him freely and fully right where they are. I want to show women that following Jesus isn't a three-step program; it's a lifestyle and it's the road to full joy in our lives.
What is your favorite part of the book?
This is a tough one! God taught me so much through the process of studying for and writing this book. One of my favorite chapters is about abiding in Christ. A few years ago I did a deep dive into John 15 to understand what abiding really looks like in our day to day routines. I knew I should "abide", but I honestly had no clue how to actually implement this rhythm and spiritual discipline. As I studied John 15, I noticed five major themes in this farewell discourse Jesus gave. I pulled them all together and created the ABIDE acronym, which is:
A: Accept Pruning
B: Believe His Word
I: Identify False Vines
D: Delight in Jesus
E: Endure with Joy
My prayer is that this acronym is something that is easy to remember as you daily walk with Jesus!
What is the most difficult part of the artistic process for you?
Some days I have too many words to say, and others I have no words at all. Some days I sit down inspired, and other days all I can think about is the dirty laundry piled high or the errands I need to run. Writing is discipline and a skill that is honed, strengthened, and refined. I am my own worst critic when it comes to creativity, and learning to show up and be faithful has been key to following through with what God has called me to do.
Through writing The Well-Watered Woman, I learned the invaluable lesson that we cannot serve, write, or create on empty. We need God's Word, every single day. Superhuman writers don't exist, but our Savior, our God, our Mighty King does, and it is by His grace we write and create. This book wouldn't exist without God's grace fueling it.
When you feel empty and like your creativity reserves have dried-up, go back to the Well. God is the Creator of creativity, and it is by his grace we get to participate in creating beauty in this world.
How did you encounter the Lord as you studied and wrote the book?
Writing this book highlighted my neediness, my pride, and my desire to please. God took a scrubbing brush to my heart as I read his Word and sought his wisdom as I wrote. It's easy to look on the outside of what someone is doing and only see the end product, but really, there is always so much more happening deep within. There were times when I felt completely empty, inept, and unqualified to write. In those moments, I'd often walk away from my computer and go on a walk to talk to the Lord. I can remember several moments where I felt utterly discouraged that God met me with his grace and gave me the words to write. I've learned that it is always a good thing to be needy for God. Needy I was as I wrote, and needy I will always be, and I am grateful to serve a God who is faithful to provide for those needs as I come to him.
In the book you mentioned that God is in every season. That is so timely with all that happened in 2020. What encouragement would you give to those who are still suffering?
One of the hardest lessons I have learned in life is this: Christians are not immune to suffering. The Bible doesn't say "if" suffering or hard times come, but rather, "when" they come, we are to trust in God (see Romans 5:3-5, Romans 8:18, 1 Peter 5:10, James 1:2-4). Last year I worked on memorizing Romans 8 and I cannot begin to tell you timely this passage was to hide in my heart! Romans 8 is a gold mine of gospel truth that never ceases to illuminate God's goodness, grace, and the steadfast hope we have in him. Specifically, Romans 8:18 has been a comfort in the midst of suffering. Paul writes, "For I consider that the sufferings of this present time are not worth comparing with the glory that is to be revealed to us." There is so much more to come, my friends. The suffering we experience in the here and now will not last forever. Hold onto hope as you hold onto Jesus who never changes and is always with you (see Matthew 28:20, Hebrews 13:8).
Extra Questions : I love how you use plants and gardening as a metaphor throughout your book. So I have to ask: What is your favorite plant?
While I love plant imagery and plants themselves, I must admit that I am still a bit of a plant killer! (Praise the Lord for Home Depot and garden shops that always have more!) However, there are three plants I have that hold a special place in my heart. First, my fiddle leaf fig has taught me the importance of slow growth and abiding. I named it Tevye after Fiddler on the Roof and love this plant! Second, I have a cactus that literally survived 6 months in a box in my parent's basement. (You can read more about how this happened in the book!) It has grown a lot since its basement captivity and is a gracious reminder to me that God sustains us in desert seasons of the soul. Third, I love planting zinnias in the summertime! These flowers produce all summer long. The more you cut, the more they bloom! What an incredible picture of the Christ-centered life? Getting my hands in the dirt always changes my heart and shows me more of what it means to grow in grace each day as I seek Christ